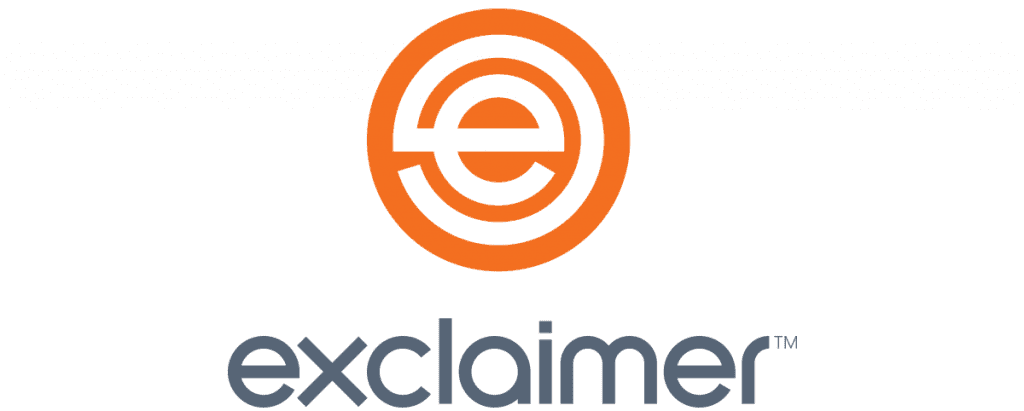 Have you ever thought that your email signature could look more professional & consistent or could be utilised in a better way?
Exclaimer Cloud is a platform created specifically for managing email signatures on Office 365. The facility provides you with an online web portal and allows you to manage email signatures for all users and devices (like Desktop & Mobile). Among all of its management features, Exclaimer has an easy to use interface for designing email signatures including a drag-and-drop editor, and access to a library of pre-built templates if you aren't sure how you want yours to look.
How does it work?
Your signatures are stored on secure Microsoft Azure servers, so when you send an email from your device it travels through Office 365 and then through the Azure servers to pick up the signature. It then lands in your recipients inbox with your professional signature present.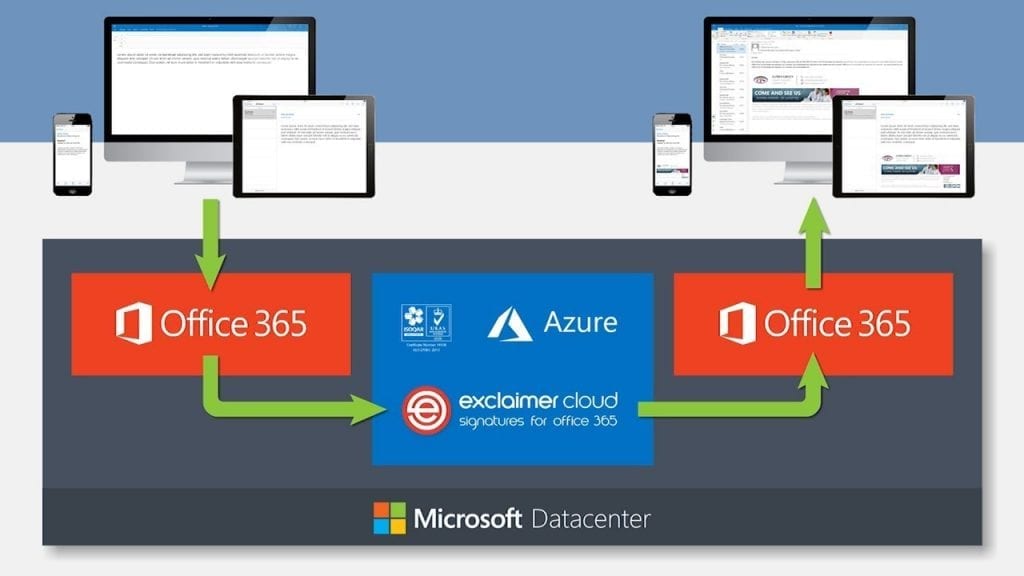 Exclaimer Key Features
Your fully personalised email signature will be applied to all emails when sent from any device, even when you're on the go using your mobile. The signatures are fully dynamic so you can be sure it will look professional on both large screens and smaller ones.
Incorporate social media icons, banners, disclaimers & team photos. Exclaimer even allows you to change a campaign message based on the sender, department or date.
Provides consistent information across all email signatures by fully integrating with your Office 365 account.
Exclaimer uses load-balanced Azure servers and add signatures to every email. This keeps all of your signatures within the Microsoft Cloud environment.
Provides an easy to use interface when both creating and managing email signatures. Exclaimer even provides a library of pre-built templates ready for you to personalise.
Why do we use it?
Here at Solutions4IT, we make use of Exclaimer on a daily basis.
The platform allows us to present each of our team members in a professional manner, as well as promote different messages to different customers depending on who is sending the email.
The facility to have a consistent look across all devices is important to us too, as we understand that it's not always possible for our clients to be using their desktop computer. This is where Exclaimer's dynamic designer comes into play and keeps us looking the part ranging from mobiles to laptops.
Our team of specialists are here to help you get your emails looking professional and consistent. If you need a hand with setting up yours, please call  our friendly team at the office on 0121 289 4477 or email us at info@solutions4it.co.uk