Increase efficiency and reduce environmental footprint through optimised printing devices.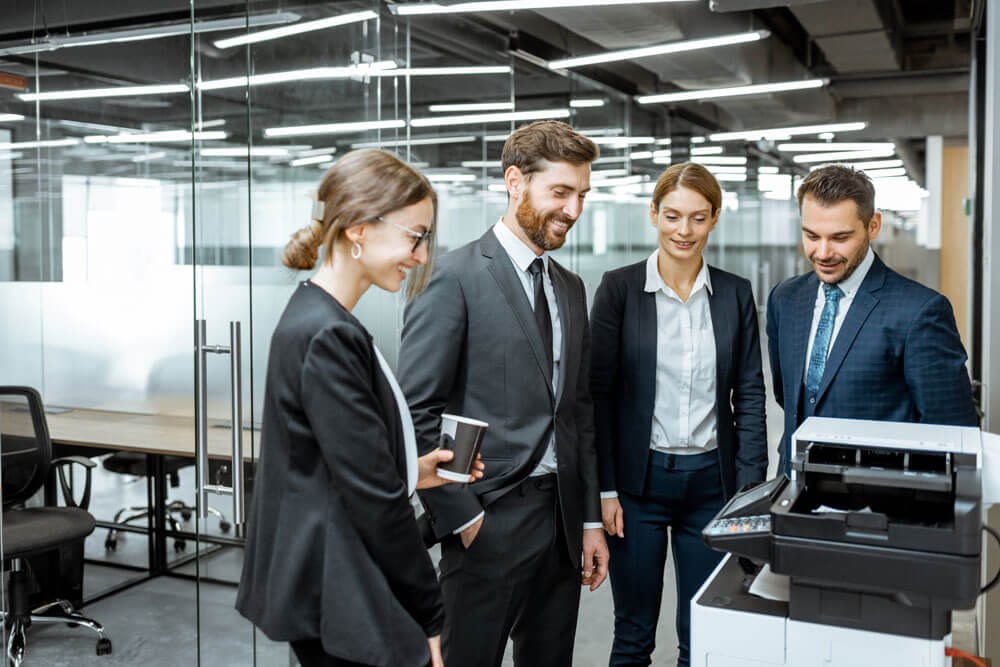 Solutions 4 IT offer a fully Managed Service to cover your existing and new printer fleet. This service covers both Laser printers and Multifunctional Devices, such as photocopiers/scanners etc., which are both B&W and Colour. This is supplied via a cost per unit, which will include all toner, parts & labour to maintain your fleet, monitoring software is installed on your network to ensure smooth delivery of this service. Automatic ticketing delivers on demand toner stocks and escalation of problems to our highly trained engineering team.
solutions4it managed print services
We offer a top-quality managed print service for our clients at attractive rates. This delivers cost savings, greater operational efficiency, reduced administration time and a high-quality print fulfillment service that is managed and monitored by our monitoring software.
Office print typically represents significant costs for organisations – up to 3% of revenue for many companies. The true cost of print also tends to be hidden in stationery budgets, which mask the true cost of printing.
Modern organisations simply don't have the time, staff, or technical knowledge to effectively manage their print environment. Today's printers are increasingly complex and rely on network management to operate effectively – something which requires specialist knowledge and regular monitoring.
Our managed print services take care of everything for you. Our team of experts will optimise your print infrastructure to make sure you have the right devices in place to fulfil your production needs. By doing this, we will cut your costs, reduce waste and remove the daily problems of attempting to manage your print in-house.
Supported devices include:
Mike kept following up to check all was OK which I really appreciated.
Tom was as helpful as always, problem solved very quickly. hello
A quick response and a positive result with both remote access solutions and direction on the use of the new applications
You were very quick and sorted the problem promptly
Very helpful guys as ever... and patient with my fumbling as I set up remote access. Thanks and stay safe all of you.
Requested remote access - all sorted within 2 working days. Thank you for speedy response! 🙂
To my delight home office computer up and running.
Gareth contacted me quickly and resolved my issues every time. We now have a permanent solution but I was able to work throughout the time this was being resolved. Very happy thank you.
You guys are reassuring and professional 2 Mikes Clive and Tom Thanks for keeping cool heads at a difficult time.
Tom was helpful, patient and persistent in getting me online from home with a workable solution for my very slow home internet connection.
Thank you Tom for sorting out my phone apps.
Tom is utterly brilliant, thank you
Jake is a telephone superhero
helping our partners suceed through IT
Solutions4IT Case Studies
need more than just managed print solutions?
Our other IT services include…