IT SUPPORT SERVICES HALESOWEN - HEAD OFFICE
IT Support Services Halesowen
Supporting Businesses in the West Midlands
IT Support Company Halesowen

Our Halesowen IT support team proactively encourages new IT industry standards, with full training when required. We open up businesses to their full potential by installing up-to-date IT solutions, cloud-based phone and data sharing platforms, cyber security and so much more!
Bespoke IT Support in Halesowen
From our Halesowen branch office, our IT specialists tailor your IT management plan to suit your needs. Every business is different, and so management plans are matched to your size, company culture and output. We can act as your personal outsourced IT department, handling the majority of your IT infrastructure. Alternatively, dealing with targeted IT projects or consultancy is possible.
From complete network design and installation, to maintaining Internet connectivity, print and cabling, we are your local Halesowen IT experts.
From our range of IT services, these are the most frequently requested:
On-site and remote IT problem solving
Helping with remote working, including from home
Email and ticket pathways
Cyber security – Cyber Essentials guidance and training
Cloud and PBX phone systems
Cloud services
To find out how your IT landscape can be improved and better managed, get in touch with our Halesowen office. Discover the advantages of modern office technologies, and how they can help your business grow. What's more, with us costly and unnecessary IT delays are easily avoided. Our IT support experts are on hand 24 hours per day, 365 days a year.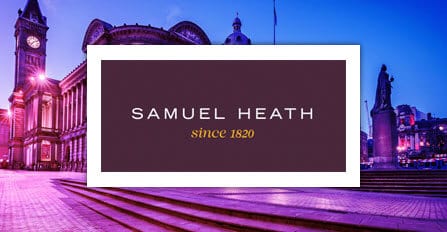 Take a look at the Samuel Heath Case Study for how our Managed Print solution and IT Suport team saved money and streamlined the IT Environment for this Birmingham Based Company  Read More
Contact our
Halesowen Branch
today to take your business further
Halesowen IT Services Provider
The cost of our tailored IT services is worked out to suit SMB and Enterprise IT Support budgets. So whatever size your business is, our services will pinpoint your requirements and meet your budget.
Please also take a look at our healthy customer feedback score, automatically sent from live ticket feedback on our homepage. This is particularly useful if you have never used specialist IT management services previously, or if you have had unsuccessful collaborations with other consultancies in the past.
Third Party Software Support from Our Halesowen IT Experts
To avoid annoying communication delays, our team deals directly with third party software and hardware companies on your behalf. Any disruption is resolved as quickly as possible, making life easier for all involved.
If you are looking for managed IT support in the Halesowen area, then talk to Solutions4IT Halesowen today. We would be very happy to audit your current IT strategy, and formulate an action plan going forward.
What does a typical IT Support client of Solutions 4IT look like ?
A typical client would have 40 users
What are the most common sectors Solutions 4 IT Supports ?
Professional Services, Engineering, Manufacturing and Heritage.
What make these companies a perfect fit ?
They see IT Support as a necessity not a cost
Frequently Asked Questions
Will you support Apple devices on our network ?
Yes we support Apple devices on networks
Can you cover all of our technology ?
Yes we can cover everything from your internet connection, network, servers, workstations, phones even as far as your printers
Are your engineers qualified ?
Yes all of our engineers follow a specific training program for their areas of expertise and carry qualifications from all the leading vendors such as Microsoft.
Are your IT solutions secure ?
Yes, we have our own security division which includes CE Auditors, as a company we are also ISO 27001 and IASME Gold Accredited. Security is considered in all of the advice we give and the Solutions we build. We don't have to outsource this like some other MSP's.
Can you patch out of hours ?
Yes all our patching is done out of hours allowing you to keep working during normal business hours without the interruption of Windows updates for example.
What size companies do you support ?
We have clients ranging from 5 users up to 500 users
How do you monitor client satisfaction ?
Every ticket we do has a positive, neutral and negative option so we track client satisfaction on every helpdesk ticket, our current score is fed to the home page of the website