Windows
Desktop-As-A-Service
What is Desktop-as-a-Service?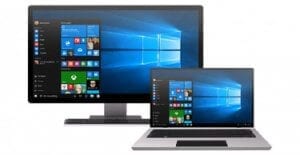 Desktop as a Service (DaaS) is a Microsoft Azure cloud offering where Microsoft hosts the infrastructure side of a virtual desktop solution. At the client side Windows 10 desktop is presented on user's devices with very little difference to operating systems installed and running locally.
With DaaS, desktop operating systems run inside virtual machines on servers in the Microsoft Azure data center. All the necessary support infrastructure, including storage and network resources, is also located in the cloud. The DaaS service streams virtual desktops over a secure internet connection to a customer's local device, where the windows 10 desktop can be accessed through client software or a web browser.
Organisations purchase the service through a subscription model – typically based on the number of virtual desktop instances required on a monthly basis. In the desktop-as-a-service model, Microsoft Azure manages the back-end responsibilities of data storage, backup, security and upgrades. Solutions4IT admins manage the virtual desktop images, applications and security.
Desktop management services are combined with the subscription costs to provide an overall solution cost which is passed to the customer. Typically, an end user's personal data is mapped to and from their virtual desktop during logon and log off, and access to the desktop is device, location and network independent.
Reduced Capital Expenditure
DAAS is a subscription-based service.
Reduced Support Costs
The core Infrastructure is managed by Microsoft.
Improved Mobility
You receive the same desktop experience from any device, and from any location.
Increased Data Security
No data stored on devices, cloud desktops are prevented from downloading malicious files.