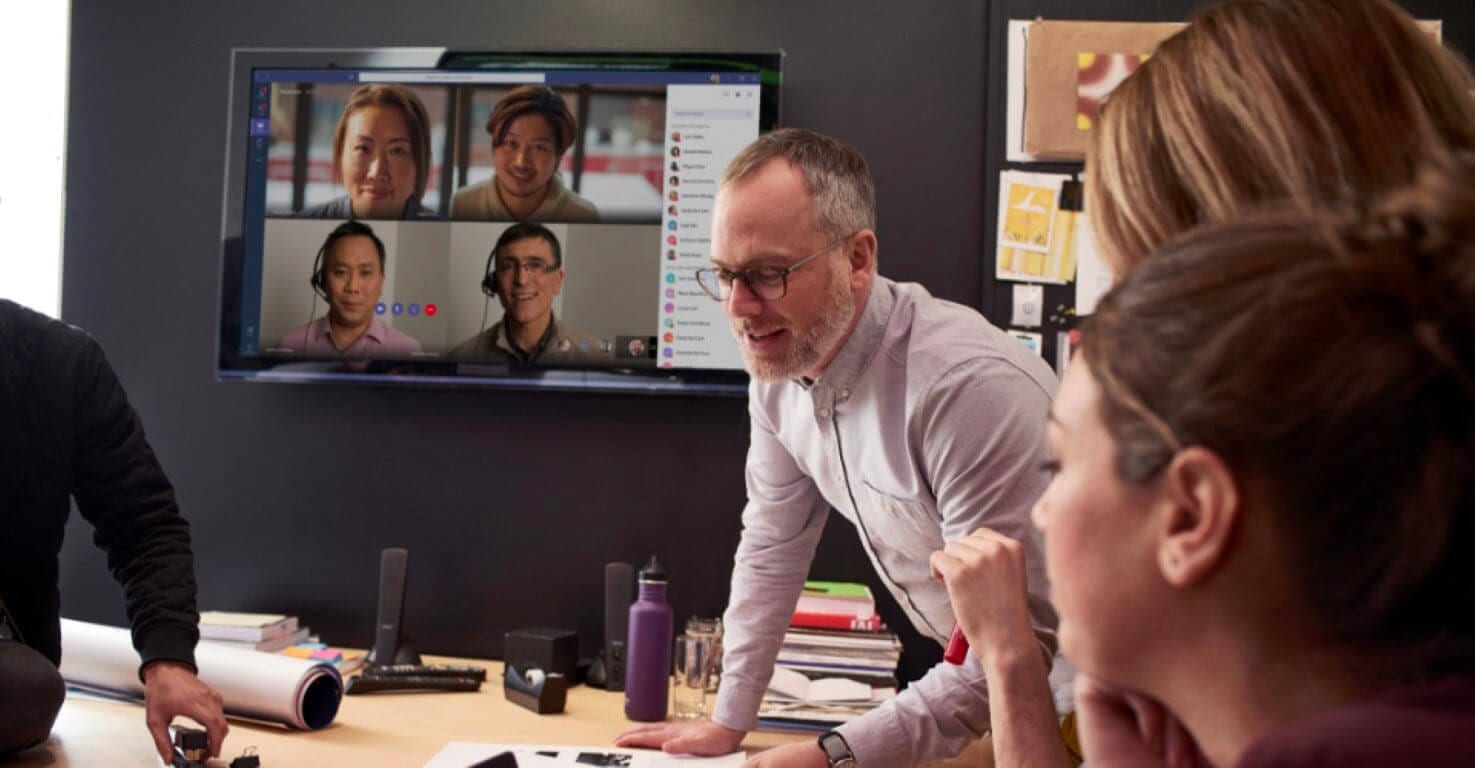 Have you been looking for a digital space that you can share with your employees & clients to collaborate as one big team to reduce unnecessary emails & meetings? Microsoft Teams is a central hub for all business activities including; meetings, calling, tech device setup & management, app integrations & manage shifts & schedules – all while keeping
data safe and secure.
Communicate more effectively: Set up a chat, online meetings, calling & web conferencing for your teams.
Work better together: Use Office 365 programs like Word Excel & PowerPoint as a team which are built into Teams for easy collaboration.
Customise workspace: Pick the apps which you think will benefit the business most.
Secure: The Office 365 platform offers end-to-end security, administrative control & compliance.
Meetings
Online Meetings: Host audio, video, and web conferences with anyone. Get features such as scheduling assistance, meeting note taking, screen sharing, meeting recording, and instant messaging.
Live Events: Hold any meeting live—large meetings, webinars, company-wide events, and presentations with up to 10,000 attendees inside or outside your organization—with Teams live events.
Audio Conferencing: Let people join meetings on the go with a global dial-in number or contact each other directly. All they need is a mobile device and Teams.
Calling
Group call: Enable Teams users to create custom groups and allow colleagues to answer their calls.
Shared lines: Configure any calling-enabled Teams user as a shared number with multiple lines for multiple calls.
Call Park: Let Teams users put a call on hold and allow other users to answer on any phone after entering a code.
Devices
Microsoft Teams Rooms: Bring the power of Microsoft Teams into your meeting rooms. Start your meetings on time with one touch, experience rich HD audio and video, and share content with the room and remote participants easily.
Desk and Conference Phones: Join calls and participate in audio conferences, supports increased collaboration and productivity. Having the Teams UI on desk and conferencing phones delivers a seamless Microsoft Teams experience.
Peripherals: Having a certified, reliable and secure peripheral which offers high-quality audio and video ensure clear conversations. Teams peripherals including headsets, speakerphones, and more. Whether working from home or on the go, there's a Teams device for you.
Security
Secure your information: Get advanced security controls with Microsoft Teams including data loss prevention, information barriers, legal hold, and more.
Stay compliant: Meet obligations to over 42 national, regional, and industry-specific regulations with help from the compliance capabilities in Microsoft Teams.
Manage: Microsoft Teams is designed with IT in mind, providing management capabilities for collaboration, meetings, callings, and apps in one place with simple administration.
If you would like some further information about Microsoft Teams, or would like to take a look around the dashboard for yourself then contact the team on 0121 289 4477 who are happy to help!