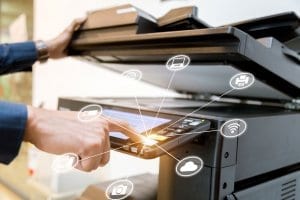 Printing is one of the biggest expenses that many businesses face. There is a constant and significant demand for print whether it is the physical aspects regarding the supply of paper and ink or the time that is spent on using the printing machines. By having a managed print service it helps to reduce certain aspects that come with print such as downtime which is combated through regular maintenance.
Analyse your needs & expectations
Solutions4IT has a dedicated team of specialists who will carefully analyse all of your printing needs to give you the best recommendation tailored to what your business requires & will manage your expectations accordingly. Our team will assess your current but also future needs to ensure that your business remains productive and efficient without any delays or hassle. We have extensive experience working with all types of printer models meaning that we can review your printer fleet too.
Assess the need of "local" printers
Do all employees need their own printer? Local printers tend to service one user, are rarely networked and require unique cartridges. This can become a huge expense especially for smaller scale businesses. Our team of specialists use an ad-hoc approach which will help to identify ways in which you can save money through adapting your print organisation.
Replace inefficient devices
At Solutions4IT we can help you identify which devices are underperforming and replace them with more efficient devices. This will help you save money on expenses which can easily be avoided. We want to ensure that your business operates efficiently through a practical approach.
No more hidden printing costs
When you work with our team you will be able to accurately foresee your printing costs on a much larger scale. This will allow you to know exactly how much you pay monthly and yearly and helps identify areas that will require further inspection to reduce loss of profit.
Printer placement
Our experienced team knows exactly where a printer should be placed for maximum efficiency within the workplace. You need to take into account that a printer needs to be accessible to all employees in a close range. This increases the ability for employees to carry out their work without any unnecessary delays or issues.
At Solutions4IT we have a dedicated team of specialists that are committed to understanding and fulfilling your printing needs. For more information on how our managed printing services can add value to your business, get in touch by calling on 0121 289 4477 or email sales@solutions4it.co.uk.